Essential reading

3 items

Course notes:

English Legal System
Aspects of Tort
Business Matters
Property Law

Recommended Reading

7 items

Additional research will be required using library texts on the main areas of English Legal System, Contract, Tort, Land and Business Law and specialist journals may be usefully consulted, e.g. the New Law Journal and the Estates Gazette (see below).

Online Library Resources

3 items

Webpage Estates Gazette interactive - news, law and research for the property market. Initial login required (see Library Homepage via web portal), then register to receive personal username and password

Webpage Case law and other documents on vlauation, property, surveying, planning and construction. Login via portal and access throught the online database page of the library

Webpage Legal database with, among other things, a wide range of law reports and includes an online version of the latest edition of Scammell and Densham's law of agricultural holdings.Click on the link to 'Academic Sign In ', then the 'Athens Sign In' link. Enter your personal Athens login details

Recommended Websites

6 items

Webpage The Law Society (governing body of solicitors) site is good for general background and comment on a wide range of current and relevant issues

Website This is the government site containing the full text of recent statutes, additional material on new legislation and revisions to primary legislation.

RICS - Royal Institution of Chartered Surveyors

Website Royal Institution of Chartered Surveyors' site with useful current affairs, commentary and law reports. You should familiarise yourself with this site as a prospective chartered surveyor, as well as for this module.

Website The UK Parliament website contains the full text of bills in progress.

This module relates to the law of England and Wales although many of the principles, techniques and substantive laws are applicable throughout the United Kingdom.

For those of you with an interest in Scotland try : www.scottishlaw.org.uk

For further information on Northern Ireland, a starting point is : www.lawsoc-ni.org

Note : any use of information or direct quotations from websites must, of course, be acknowledged and referenced in the same way as more traditional material. Consult the Harper Adams Referencing Guidelines for the accepted format.
All rights reserved ©
Profile Required
Reading intentions and notes are stored against your user profile. Please create a profile to use this feature.
My notes
You must be logged in to add a note
What are item notes?
You can use item notes to make personal notes on any of your reading items. Notes are private to you and will not be shown to other users.
You can review your item notes from the list, the item page or from your profile page.
---
How do I create an item note?
To make notes, first you must be logged in. Once logged in, simply click Add note? next to the list item you wish to make notes on. You can also make notes at the bottom of every item's detail page.
Your note will be saved automatically as you type.
Have you read this?
You must be logged in to set a reading intention
What are reading intentions?
Setting up reading intentions help you organise your course reading. It makes it easy to scan through your lists and keep track of progress. Here's an example of what they look like: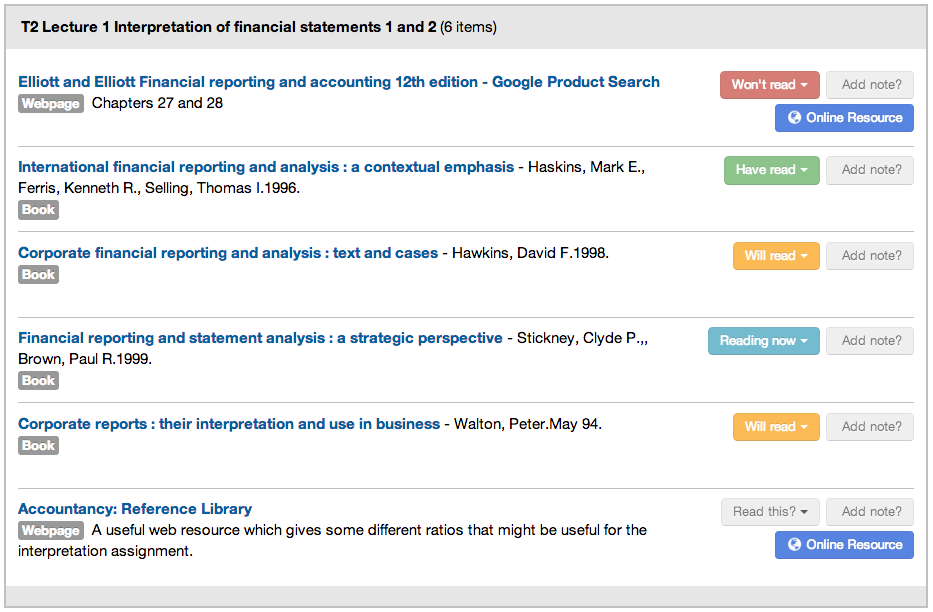 Your reading intentions are also stored in your profile for future reference.
---
How do I set a reading intention
To set a reading intention, first you must be logged in. Once logged in, click Read this? next to the list item you wish to set a reading intention for.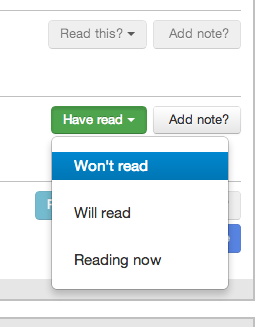 You can also set the reading intention from every item's detail page.